5-12-13
Another Mother's Day without you here...

Dear Mr. Hallmark,

I am writing to you from heaven,
and though it must appear
A rather strange idea,
I see everything from here.

I just popped in to visit,
your stores to find a card
A card of love for my mother,
as this day for her is hard.

There must be some mistake I thought,
every card you could imagine
Except I could not find a card,
from a child who lives in heaven.

She is still a mother too,
no matter where I reside
I had to leave, she understands,
but oh the tears she's cried.
I thought that if I wrote you,
that you would come to know
That though I live in heaven now,
I still love my mother so.

She talks with me, and dreams with me;
we still share laughter too,
Memories our way of speaking now,
would you see what you could do?

My mother carries me in her heart,
her tears she hides from sight.
She writes poems to honor me,
sometimes far into the night.

She plants flowers in my garden,
there my living memory dwells
She writes to other grieving parents,
trying to ease their pain as well.

So you see Mr. Hallmark,
though I no longer live on earth
I must find a way,
to remind her of her wondrous worth

She needs to be honored,
and remembered too
Just as the children of earth will do.

Thank you Mr. Hallmark,
I know you'll do your best
I have done all I can do;
to you I'll leave the rest.

Find a way to tell her,
how much she means to me
Until I can do it for myself,
when she joins me in eternity.


4-26-13
I wanted to share this link about a thief stealing Paige's stuff from her grave getting caught! Makes me sick that someone steals from cemeteries!!!
http://www.wkbn.com/2013/04/26/wreath-stolen-from-daughters-gravesite-returned-to-mother/
HAPPY 23RD
BIRTHDAY PAIGE!
This memorial website was created in the memory of our sweet baby, Paige Marie DeSarro who was born in Salem, Ohio on April 17, 1990 and passed away on June 23, 2007 at the age of 17 when an Arachnoid Cyst on her brain burst from a seizure. She lived her short life in East Liverpool, Ohio. She had the seizure June 17, 2007 and was life flighted to Pittsburgh Children's Hospital and was there for a week before leaving us. The cyst was something that we found in 4th grade and the only symptoms that she had were headaches. It took up 40% of her skull. We were never told that it could kill her if it burst or that a seizure of any type could cause it to rupture. She had so many friends and family that loved her. She had a very unique way to touch people with her smile, laugh, crazy sense of humor and the way she always flashed her peace sign at everyone. She had no idea how many lives she touched in her short life. We had no idea until she passed. She will be loved and missed dearly by all of her many friends and family. We will remember her forever. For more information about what happend see her timeline page. Paige's Dr and all of us now believe that Paige's seizure which caused her Arachnoid Cyst to burst was caused from her Gardasil vaccine that she received! Investigate it before giving it to your daughters!! Follow this link for more information on the side effects of the Gardasil shot! http://www.nvic.org/Vaccines-and-Diseases/hpv.aspx
GREAT NEWS!! WE GOT THE
BALANCE OF PAIGE'S
SCHOLARSHIP FUND FROM THE
BANK & IT IS
$23,586.36!!! :) THAT IS
AWESOME & THANKS AGAIN TO
EVERYONE THAT HELPS AND
DONATES EACH YEAR!!
************************************************
THANKS TO EVERYONE WHO
DONATED AND WORKED FOR OUR
2ND ANNUAL BINGO/PASTA DINNER
THAT WE HAD 4-12-12. WE
RAISED $4,200 FOR HER MEMORIAL
SCHOLARSHIP FUND!
*************************************
TOGETHER AGAIN....PAIGE & HER PAP. My Dad Leo Keith Hughes passed away 7-26-11 & joined Paige in Heaven. We find some comfort in knowing they are together now.
Above is a picture of the white long sleeve t's that we are taking orders for. I will be placing an order. Get a hold of me if you want to order one. They are $20.00. 330-386-7377
*****THE BING0/DINNER
EXTRAVAGANZA
FOR PAIGE'S MEMORIAL
SCHOLARSHIP APRIL 14, 2011 WAS
A HUGE SUCCESS!!!!
WE RAISED OVER $4,200!! THAT IS
4 YEARS WORTH OF
SCHOLARSHIPS PLUS!! WE WILL BE
HOSTING ANOTHER BINGO/DINNER
AGAIN NEXT YEAR!!
THANKS TO ALL WHO DONATED
AND HELPED!! WITHOUT YOU
GUYS THESE THINGS WOULD NOT
BE POSSIBLE!! THANKS SOOOO
MUCH!!!
*********CONGRATULATIONS TO
THE 2015 MEMORIAL SCHOLARSHIP
WINNER ANNA JENNINGS!! SHE

RECEIVED A $1,000

SCHOLARSHIP!!!***********

**********CONGRATULATIONS TO
THE 2014 MEMORIAL SCHOLARSHIP
WINNERS! PAIGE'S YOUNGER

SISTER SIERRA WRIGHT WAS
AWARDED A $1,000 SCHOLARSHIP
AND CHANDLER HOPPEL WAS ALSO
AWARDED A $1,000 SCHOLARSHIP!
CONGRATS TO BOTH OF YOU GIRLS!
:) **********

I would like to congratulate Miranda
Turkovich the 2013 recipient of
Paige's Memorial Scholarship!! There
were so many great applicants this
year! Thanks and goodluck to all who
applied!
*************************
CONGRATULATONS TO THE 2012
PAIGE DESARRO MEMORIAL
SCHOLARSHIP RECIPENT!
TORRIE FRYMAN
CONGRATULATIONS TO THE 2011
PAIGE MARIE DESARRO
MEMORIAL SCHOLARSHIP
RECIPIENT!
YOUNG AESCHBACHER
CONGRATULATIONS TO MICHELA
NICHOLSON THE 2010 RECIPIENT
OF PAIGE'S MEMORIAL
SCHOLARSHIP IN THE AMOUNT
OF $1,000!
*************************************************
************************
2009 PASTA DINNER
THANKS SO MUCH FOR ALL OF THE DONATIONS OF DESSERTS, CHINESE AUCTION ITEMS & TO THE PEOPLE THAT WORKED!!!!! WE COULDN'T DO THESE FUNDRAISERS WITHOUT ALL OF YOU!!
WE SERVED 224 MEALS!! WE CLEARED OVER $1,600!! THAT IS GREAT!! THAT IS A FEW MORE SCHOLARSHIPS!!! IT ISN'T ANYWHERE NEAR THE FIRST YEAR AND WE KNEW THAT EACH YEAR WE WOULD MAKE LESS. WE KNEW THE LONGER THAT PAIGE HAS BEEN GONE THE LESS INVOLVEMENT IN FUNDRAISERS WE WOULD HAVE. SAD BUT REALITY. WE DECIDED THAT THIS WAS OUR LAST DINNER. WE ARE LOOKING INTO OTHER FUNDRAISERS & WE WILL POST THEM WHEN WE KNOW WHAT WE ARE DOING.
SEVERAL PEOPLE SHOWED UP & HANDED ME MONEY FOR DONATIONS AND DIDN'T EVEN EAT! PEOPLE WILL NEVER STOP AMAZING ME WITH THEIR LOVE FOR PAIGE!! SHE TRULY WAS A VERY SPECIAL LADY!! I MISS HER SO VERY MUCH!!
THE AMOUNT OF CHINESE AUCTION BASKETS DONATED WAS AWESOME!! THANK YOU EVERYONE!!!!!
DANA
************************
I would like to thank Coach Walter Anchors and his volleyball team at Youngstown Chaney High School! Thank you, thank you, thank you!!!! You don't know how much it meant to us to be invited to a volleyball game and presented with a donation to Paige's Memorial Scholarship Fund! We really enjoyed watching you girls play! You have a great team! Paige continues to touch new lives everyday. People that never had the pleasure of meeting her.
Youngstown Chaney Varsity 2009 Volleyball team



11-27-09 - This was written for Paige by her high school volleyball coach Walter Anchors. Thank you Walter!
How You Inspire Me

In 06, when I was hired to see
Just what this program could do
Is when I first got to meet you
How you inspire me

Things did not happen for free
At the beginning of that season
We saw something about you within reason
You started to inspire me

No one at that time could ever see
That the summer of 07 came and we all had to cry
And to tell you in this life good-bye
From this time on, you inspired me

As each day passes and we just say gee
But everyone realizes from you all of the good
And go on that we should
You have truly inspired me

Many people all seem to agree
To this day I have but one regret
That just after knowing you one year, you will be one person I will never, ever forget
Of how much you inspire me

Each day that I wake up and the sun that I see
Telling others about you still brings to me tears
And will for many, many years
I just want to tell you Paige of how much you inspire me



A friend of Paige's made a Facebook
page for her a few days after Paige
passed away. I just recently was able
to add pics to it. Check it out and leave
a message.
http://www.facebook.com/photo.php?pid=30564226&id=1441180438&comments=&alert=#/group.php?gid=2543712720&ref=ts
This poem was put in a tribute from Paige's Grandma Lu & Pappy Rich.
Time has taken me from you,
although not very far.
I'll be watching through the sunshine
And through the brightest star.

I'll be watching all of you,
From the heavens up above.
So take good care of each other
And carry all my love.

If you're ever wondering
If I'm there, here's where you can start.
Take a look inside yourself
Deep within your heart.

I'll always be your baby,
your child (grandchild), your best friend.
So anytime you need me,
Close your eyes I'm back again.


THE 2ND ANNUAL BRUISERS VS
BEAUTIES FUNDRAISER FOR
PAIGE & AMANDA'S
SCHOLARSHIPS WAS A HUGE
SUCCESS! THANKS TO EVERYONE
INVOLVED IN THIS AWESOME
EVENT!!! SO MANY TEENS
WORKED SO HARD ON THIS!
THERE WERE ADULTS ALSO BUT
THE KIDS DID THE PLANNING AND
ORGANIZING AND IT WAS
AMAZING! THANKS TO THOSE OF
YOU WHO DONATED TIME, FOOD &
SACRIFICED YOURSELVES FOR THE
DUNK TANK AND PIE THROWING
BOOTH LOL!!!
CONGRATULATIONS TO

KAYLA MACKALL WHO WAS THE

RECIPIENT OF THE CLASS OF 2009

PAIGE DESARRO MEMORIAL

SCHOLARSHIP!!!
SORRY THIS SITE ISN'T
WORKING RIGHT!
IF YOU TRY TO LIGHT A
CANDLE IT MAY TAKE A
FEW TRIES BEFORE IT
WORKS. ALWAYS COPY
TRIBUTES BEFORE
SUBMITTING SO THAT
YOU CAN PASTE IT
IF YOU LOSE IT!
Congratulations to Mark Mercer
for winning the Beaver Local & East Liverpool t-shirt quilt that Theresa Stockdale made and donated for the scholarship fund!!!
Theresa is going to make one with Amanda & Paige's hoodies and t-shirts that we are selling on it. We (Bev & I) will be selling tickets for that in the future.
Dana
WISH YOU WERE HERE!
Missing you more than ever!
Nothing is right without you here!
Wish I could dream about you everynight!
I would love to just be able to sit down and talk to you again!
I Never Knew



I never knew how much I could miss you

Until the day I could see you no more

I never knew how empty my heart could be

Living my life is not life anymore

I never knew how a heart could ache

No medicine can take this pain away

My soul has been bruised and torn

I became a different person that day

I never knew loneliness until now

I can be in a crowd and yet feel alone

So few people I can share my pain with

I wish this terrible loneliness was gone

I never knew but now I know

With the loss of your child

Your life, your world changes

I never knew until, I lost my child

Doyle Alldredge


*PAIGE'S NEW MEMORIAL MYSPACE*
I created a Memorial MySpace for Paige. There is one that I didn't do and don't appreciate some of the things on there. I am not finished with this one yet. For some reason I am unable to update anything on the MySpace that Paige had when she passed. They will not give me access to her account. There are tons of pics on the new one and would love to add everyone to her friend list. There were so many of her friends that wouldn't put messages on here but did on her MySpace. Please send me friend requests to add you to her Memorial MySpace. That way you can put messages on there. I miss being able to approve the messages on her old site. Spread the word. http://profile.myspace.com/index.cfm?fuseaction=user.viewprofile&friendid=155260139
Paige at her last Relay for Life June 1, 2007
*****JUST WANTED TO LET EVERYONE KNOW THAT WE SHUT PAIGE'S CELL PHONE OFF AND WE RECORDED HER VOICE ONTO THIS SITE. GO TO AUDIO & VIDEO AND CLICK ON "PAIGE'S CELL PHONE GREETING". I know so many of you still called Paige's phone to hear her voice since we miss her so much! This way we have it forever! Alltel made some changes to their voice mail system and I was going to lose it. We continued paying for her phone for all of us for 16 months.*****
Dana
Pappy Hughes & all his grandkids on his last birthday with Paige. 10-16-06
Step Daddy Dearest Rich & Paige
THE 2008 PASTA DINNER WAS ANOTHER BIG SUCCESS!!
****WE SERVED 300 DINNERS! WE MADE APPROXIMATELY $2300 BETWEEN THE DINNERS, AUCTION, PAIGE ITEMS & RAFFLE! THANK YOU TO EVERYONE WHO CAME AND TO ALL OF THE PEOPLE WHO DONATED AUCTION ITEMS, DESSERTS AND WORKED! WE COULDN'T DO IT WITHOUT ALL OF YOUR HELP!!****
THANKS,
DANA
When you lose your parents you are an orphan.
When you lose a spouse you are a widow or widower.
When you lose your child....there isn't a word for that?!
CONGRATULATIONS TO
DANIELLE DICKSON WHO WAS THE
RECIPIENT OF THE CLASS OF 2008
PAIGE DESARRO MEMORIAL
SCHOLARSHIP!!!
Paige & Danielle Dickson Fall 2006
Three beautiful Angels watching over us!
Amanda, Paige & Paige
THE HOODIES ARE IN!! IF YOU ORDERED ONE GET A HOLD OF ME. THEY ARE $25.00. I still have all sizes left. IF YOU DIDN'T ORDER ONE AND YOU WANT ONE GET A HOLD OF ME. I ORDERED SOME EXTRA AND WILL BE PLACING ANOTHER ORDER SOON!
DANA
330-386-7377
OR EMAIL ME @
Paige through the years!!!!
This is the memorial page that the school put in Paige's Senior yearbook.
This is the page for "Best Smile".

This is the page that we put in with her Pappy Rich and Grandma Lu's Christmas money for Paige.
This is the picture that they put in the yearbook for the Senior volleyball night.
My Mom is a Survivor

My Mom is a survivor,
or so I've heard it said.
But I can hear her crying at night
when all others are in bed.

I watch her lay awake at night
and go to hold her hand.
She doesn't know I'm with her
to help her understand.

But like the sands on the beach
that never wash away ...
I watch over my surviving Mom
who thinks of me each day.

She wears a smile for others ...
a smile of disguise!
But through Heaven's door
I see tears flowing from her eyes.

My Mom tries to cope with death;
To keep my memory alive.
But anyone who knows her knows
it is her way to survive.

As I watch over my surviving Mom
through Heaven's open door ...
I try to tell her that angels
protect me forevermore!

I know that doesn't help her,
or ease the burden she bears.
So, if you get a chance, go visit her.
Show her that you care.
For no matter what she says ...
no matter what she feels.
My surviving Mom has a broken heart
that time won't ever heal.

~Author~

Kaye Des'Ormeaux
I would like to thank Shelley Roberts and the Beaver Local & East Liverpool High School volleyball teams & Boosters along with all of the fans who brought in their change for the "Keep the Change" challenge that they did for Paige and Amanda's scholarship funds. They raised a total of $780.00 at the BL/EL volleyball game 9-10-08! That is awesome!!! The money will be divided between the girls scholarship funds. Thank you so much Shelley!! What a great idea!
Dana
This is a picture of Paige's bench that we had put in at the cemetery. THANKS TO ALL OF MY FRIENDS AND FAMILY WHO SENT MONEY TO US AFTER LOSING PAIGE! The cards that didn't say the money was for the scholarship fund was put towards this bench. THANK YOU!!
Dana
A Mothers Daily Nightmare
I woke up this morning,
And you were not there,
I can't kiss your cheek,
Or brush back your hair.
The days of joy are over,
The pain and sorrow starts,
Because when you went to Heaven,
You also took my heart.
I have to live my nightmare,
Each morning when I wake,
I have to feel this pain,
With every breath I take.
With gut wrenching sorrow,
And mind numbing pain,
I daily live this nightmare,
Over and over again.
Written by Natalie Camp
This picture of Shane below is from the butterfly release that we did for Paige's one year anniversary.
I ordered the hoodies 8-26-08. They will be carolina
blue (light blue). The price will be $25.00 and any
profits will go towards her scholarship. It will have the
picture & design below on it. Except for the billboard
scene of course. I ordered 5 in each size at first to
sell and then I will be taking orders for them. For
orders you can see Leanna Kriner @ Bermuda Tan or
call me @ 330-386-7377 or email me @
wrighrd@comcast.net . Artwork done by Jeff
Campbell of Campbell Signs and Apparel.
Dana


Do Not Judge Me

Do not judge a parent after the loss of their child
You can never know the pain unless you also lost a child
Do not tell us we need to get over it
Unless you can stand where I stand and can say it
Turn not away from me when I speak of my child
My sharing's of my child with you is not a contagious disease
Sure I may cry and maybe seem angry but it helps me
You do not have to say a word, just listen to me
Do not be afraid of me because I'm not who I was before
When you lose a child, grief steals your life and shuts life's door
As a friend I so much need your support
As I travel this road of grief I desperately need your friendship

Doyle Alldredge


This is Paige's cousin Amanda Marie DeSarro. She died in a car accident April 8, 2008 at the young age of 21. Just 9 1/2 short months after losing Paige.

I was lucky enough to see and talk to Amanda that last morning of her life and I will always be thankful for that! God Bless you sweetie! There is a link below to her memorial website that my Mom, Traci and I did for Amanda's Mom Bev and her family! Dana


www.amanda-desarro.memory-of.com

Cousins!


Paige Marie & Amanda Marie
December 2006


I WANT TO THANK EVERYONE THAT WAS INVOLVED WITH THE "BRUISERS VS BEAUTIES" TODAY! WOW! WHAT A GREAT IDEA AND IT WAS A HUGE SUCCESS! I don't think that there was anyone there that didn't have a great time! I especially want to thank Bob Pyle and his whole family, Pam, Sandy and her family! Sandy, Bob & Pam, you have a great bunch of kids and friends! Taylor kept asking me if I liked it. I watched Matt, Taylor & Carlee working hard all day! I LOVED IT! GREAT JOB!
Thank you so much!!!
Dana
Pictures coming soon!
Stop & check out Paige Haney's memorial website and light a candle. This sweet little girl who was only 16 lost her battle to AML Leukemia on June 23, 2008, on our Paige's one year anniversary of her death.
I would like to extend a HUGE THANK YOU to Scott and Jamie Mick from Jamie's Gym & Dance!!! THANK YOU SO MUCH! Tonight meant so much to our family! You are wonderful friends! Tonight brought back so many happy and (also stressful) memories of Paige in your recitals! I would watch some of the moves and remember how Paige had done some of them. Of course all of the limber ones! I kept picturing her in all of her costumes. Thanks for bringing so many happy memories back to me tonight! Also thank you so much for donating the raffle and admission from the door to Paige's scholarship fund and also for letting us sell her items there! I have to give my sister Traci credit for putting the slide show together for Jamie. She put the presentation together in just three or four days! GREAT JOB TRACI AND GREAT JOB JAMIE FOR A WONDERFUL RECITAL! The routine that you and your instructors did in memory of Paige, Amanda & your Grandparents was absolutely beautiful and very touching! I don't think that there were many dry eyes in the house!
Thanks so much!!!
Dana
THE ORDER IS IN! WE NOW HAVE THE BRACELETS AND KEYCHAINS! We are having another fundraiser for Paige's scholarship fund. Leanna at Bermuda Tan is also selling them! Leanna is also sell the Paige t-shirts for $20.00 and we are looking into selling hoodies with a different picture on them! They say "We love you Paige Marie DeSarro 4-17-90 - 6-23-07". The keychains will be selling for $3.00 and the bracelets will be $2.00. I will have them with me as I do the magnets all of the time! Anyone wanting one can email me by clicking on Mom on any of my tributes on this site or stop and ask me.
Dana

Dana


DOVER CITY SCHOOLS
219 West Sixth Street
Dover, Ohio 44622

May 2008

Dear Sierra, (Dana and Shane)

We are so happy here at Dover Avenue Elementary School that you found one of the balloons we launched. We were even happier that it brought you some joy!!!! Your letter brought tears to several of the adults in our school and we hope you are doing better with each new day.

I serve as the Principal here and I always write on my Balloon Card: "I am so fortunate to be the Principal of Dover Avenue School. We have the BEST students, BEST parents and BEST staff that any Principal could ask for!" I really do love my job and being with the students every day.

I can't begin to know what you and your family have endured this past year. I've browsed your website and have seen the beauty in your sister. I do have a story to share with you….and maybe it will bring you some peace.

My son, Kyle, lost his very best friend on May 4, 2007 in an automobile accident. Matt Compton was 16 years old, a neighbor of ours and truly like a member of our family. Kyle and Matt were inseparable……….spending time together from morning til night and going through so many stages of their young lives together: Little League, Y Basketball, being Ball Boys for the High School Basketball Team, mopeds, school activities, birthdays, holidays, sleepovers… the list goes on and on. Kyle often referred to Matt as "his one TRUE friend."

We continue to struggle with the loss of Matt and we think about him all the time. Not a week has gone by that his name doesn't come up….often times with tears and yet, also with joy in our hearts for his being such an important part of our lives.

It is my hope for you….that the memories of all the good times shared with your sister….brings you comfort and smiles. Our Matt was a stranger to no one and a friend to everyone. In reading your letter, I couldn't help but think….that Matt and Paige are friends in heaven and that balloon was a message to all of us that maybe they've found each other. Matt never did miss out on noticing a pretty girl….so I'm sure he noticed Paige up there and wanted us to know about her too!!!! Things happen that we sometimes can't explain….and maybe THIS is one of those things!!!!!

As your Mom wrote on the bottom of your letter:
"You have no idea what this balloon meant to us."
Now I want you to know that YOU have no idea what your letter meant to US!!!! I plan to send your letter and this one to Matt's parents as I'm confident they will find comfort in the unfolding of this story!!!!

Stay strong, Sierra and know that Matt and Paige are having a grand old time together. The thought of that makes me laugh, and it makes me ever so happy!!!!

Sincerely,

Mrs. Renee Sattler

The Balloon Launch
4-17-08
Paige's 18th Birthday
For those of you who have found balloons and are not sure where the release was: We released over 300 latex balloons on Paige's 18th birthday from the Columbiana County Memorial Park where she is buried in East Liverpool, OH (Calcutta) on April 17, 2008. There were approximately 250 people there. Below are a few pictures from that day. We also let off the mylar balloons with tags on the one year anniversary of Paige passing away June 23, 2008.
I WOULD LIKE TO THANK HALL'S WELDING & SUPPLIES FOR DONATING THE HELIUM TANK FORTHE BALLOON LAUNCH! I WOULD ALSO LIKE TO THANK ALL OF MY FRIENDS AND FAMILY WHO WORKED SO HARD TO HELP THE LAUNCH GO OFF WITHOUT OUT ANY PROBLEMS. WELL EXCEPT FOR A FEW LOST BALLOONS! LOL I WOULD LIKE TO SEND OUT A SPECIAL THANKS TO KELLY & TIFF FOR WORKING SO HARD ON THE MEMORIAL VIDEO OF PAIGE FOR ME! IT IS BEAUTIFUL!
THANKS, DANA
Siblings

It is said when your parents die, you lose your past;
when your spouse dies, you lose your present;
and when your child dies, you lose your future.
However, when your sibling dies, you lose your past, your present and your future. After all, the relationship between siblings is potentially the longest of their lives.
THANKS TO EVERYONE WHO MADE THE SPAGHETTI DINNER A HUGE SUCCESS! WE SERVED 580 DINNERS AND CLEARED $3,500.
This picture is from the East Liverpool vs Beaver Local High School volleyball game. Coach Walter Anchors went above and beyond getting this jersey for us. This was Paige's jersey that she wore her Junior year. Coach Anchors' presented it to us at the game. Lori Jackson worked hard getting it just perfect in the shadow box. We were also presented a t shirt quilt that was signed by many friends from both schools. Theresa Stockdale worked very, very hard on this. Who by the way for those of you who don't know her...she is Chelsey's Mom who played for East Liverpool. The two of them have done so many things for us and are still offering. Thank you so much to all of you!!! Sorry that it took me so long to learn how to do things on this site. I should have had this stuff on long ago!
Coach Anchors & Dana below:
The East Liverpool volleyball team with Theresa & Dana:
I am adding the link to Stanley Roberts Memorial website on here. He passed away June 7, 2007 in a car accident and was only 18. He had just graduated from Beaver Local High School days before. He had a site before and I believe they just restarted it.
www.stanley-roberts.memory-of.com
I am excited about something for the first time in a very long time. I finally have a website for our dog breeding business! Log on and check it out! www.yeagerspoodlesanddoodles.com

Dana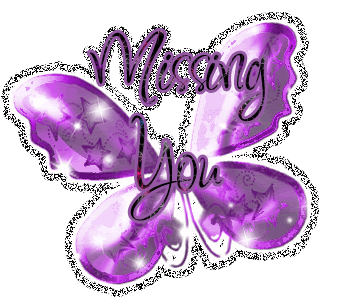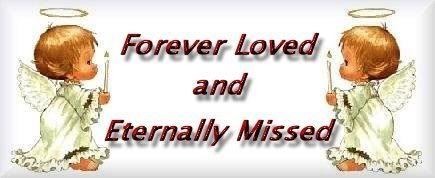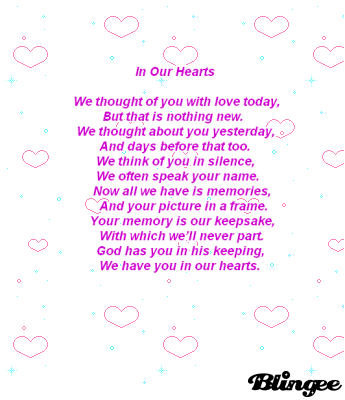 !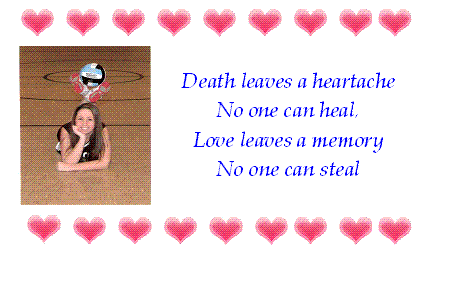 This is a poem that was read at Paige's funeral. Her Miggie (Grandmother) bought it for her a few years ago. I found it in her Bible after she passed. I hope that it makes some of you, Paige's friends, think through your choices in life.
May God Bless and keep all of you kids safe!
Love & miss you guys,
Dana

Teenage Dreams

It's Not Enough To Have A Dream Unless
You're Willing To Pursue It -
It's Not Enough To Know What's Right Unless
You're Strong Enough To Do It -
It's Not Enough To Join The Crowd To Be
Acknowledged And Accepted -
You Must Be True To Your Ideals, Even
If You're Left Out And Rejected -
It's Not Enough To Learn The Truth, Unless -
You Also Learn to Live It
It's Not Enough To Reach For Love, Unless
You Care Enough To Give It

Edited by Art Knight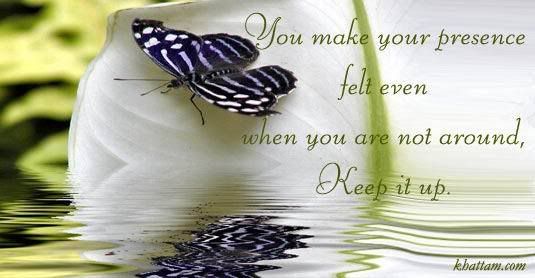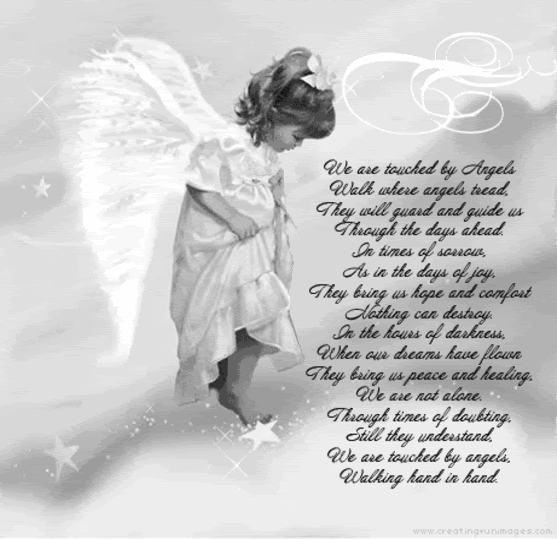 A BEAUTIFUL ROSE
FOR OUR BEAUTIFUL ANGEL!